We Will Get Through This Together (From a Distance, Of Course)
Fads. Love them or hate them, there's no stopping them. Regardless of which side you fall on, the whole concept of a fad means that it's here one minute and gone the next. Some fads, we are happy to see go. Remember those Magic Eye pictures? I could never find the picture I was actually supposed to see. Or how about bell bottoms or acid-washed jeans or mullets? Yikes! Perhaps some fads we wouldn't mind seeing come around again. I mean, was there anything better than a Trapper Keeper with cute little puppies on the cover?
In these strange times of social distancing and sheltering-in-place, all kinds of fads are popping up. Jigsaw puzzles are being posted on Instagram accounts worldwide. Handwashing tutorials are all the rage (it's about time!). Zoom meetings, virtual happy hours, #WFH ("work from home") …the list goes on. Another fad is this catch phrase that is making the rounds—from politicians, to celebrities, to our family and friends, to colleagues, to neighbors: "We are all in this together." Personally, I hope this fad sticks around. There is a unity across our families, our neighborhoods, our countries, and our world that might be unmatched by any other time in our history. We ARE all in this together, and what a comfort that is! Being supported by a "team" is so crucial right now…whatever that "team" may look like for you.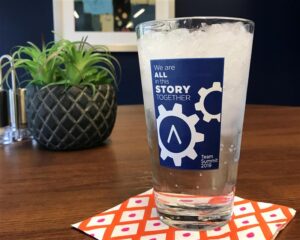 Truth be told, though, at Truepoint, this new catchphrase is part of our everyday language. It's something we live, day in and day out, at our office. As a matter of fact, "We are all in this story together" was the theme of our annual team summit in 2019—a mere six months ago. At that summit, we talked about the good times and challenging moments at Truepoint and how we are all in this story together. When one of our teammates celebrates a success, a marriage, or a birth, we are all in this story together. When someone suffers a setback, a loss, or a health concern, we are all in this story together. But, to be clear, being in a story together doesn't mean our individual stories are the same. (I mean does anyone really think that JLo and ARod's social distancing looks anything like mine here in Cincinnati?)
Being in the story together means that you don't leave your individual story at the door. In fact, bringing our individual stories together makes up the story of Truepoint. That was true 30 years ago when Truepoint first started, that was true during the great financial crisis of 2008, that was true when Truepoint crossed the $3 billion mark of assets under management – and it remains true today. In a time of social distancing, of health concerns, and of economic worries, we must all be in this story together. Our experiences are different, for sure. Some of us are balancing kids and spouses and cooking and educating in ways we never have before, while others are suddenly finding themselves in what feels like a deafening silence. But, when we all "come together" via technology and share our individual stories, we realize once again that we truly are all in this together.
We encourage you to "get together" with your team (whoever that may be) and stay connected. At Truepoint, we are continuing our long history of staying connected, even though we are physically separated, in all kinds of creative ways. Our virtual happy hour brought some much-needed joy to our first week of remote working. Sharing relatable memes via Microsoft Teams has helped lighten the load and kept our spirits up. And, on a more serious note, our weekly webinars with our clients have reminded them to stay the course and not panic about their portfolios—important reassurances during these difficult days. These small measures help us see how we are not alone; in fact, it is just the opposite. We are all in this together.
The Coronavirus is our collective story today. But that collective story is made up of millions of people's individual and unique experiences. At Truepoint, we've always been guided by the belief that it's these individual stories that matter the most. We hope you will share your story during this unprecedented time, and we know that we will all get through this together. And may I just use this opportunity to encourage someone to please bring back the Trapper Keeper!