Putting a Market Correction into Perspective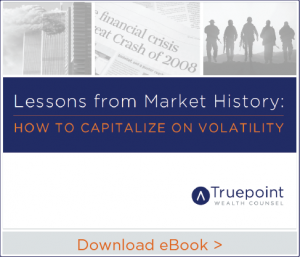 In light of recent market volatility, it's time to put things in perspective. In our recent year-end commentary, 2017 Year in Review: Smoothest Ride Ever?, we noted that 2017 marked the first time in history the S&P 500 failed to move up or down 2% from the previous day's trading close. In the last two trading days, it's happened twice, with Monday being down 4%.
This morning's headlines referenced the largest daily point drop on both the Dow Jones Industrial Average and the S&P 500 Index. While technically accurate, it's worth a closer examination.
First, the statistic on its own doesn't tell much of a story. To be clear, after yesterday's sharp decline, the S&P 500 Index was down less than 1% cumulatively for the year. In other words, initial conditions matter – and the conditions going into last week had been very positive for the stock market. Thus, an alternative story might be: "The market is little changed for the year" – also technically accurate.
Second, although it may have been the largest point drop for a single day in history, yesterday was not the largest percentage drop. As the market level rises, so too will the expected daily rate of change. In percentage terms, yesterday's decline of 4.6% pales in comparison to Black Monday in 1987 – a day in which the DJIA lost a little more than 500 points, but approximately 20% of its value at the time.
And finally, to reframe expectations based on our current market levels, it's worth remembering that the average annual decline in the market is about 14%. Therefore, if history is any indication, we should expect the DJIA to produce average corrections on the order of 3,000 to 4,000 points, and potentially double that figure about every five years.
How investors react determines everything — permanent loss in a well-diversified stock portfolio is always a result of investor behavior. Our eBook, Lessons from Market History: How to Capitalize on Volatility, offers a useful history of market crises and highlights Truepoint's action plan for capitalizing on these opportunities. As always, please contact us with any questions.