Reflections on Retirement: A Letter from Lisa Reynolds
Many of our long-time clients are familiar with Lisa Reynolds who served in various roles at Truepoint for more than 20 years. While the global pandemic stopped many people in their tracks, it provided the opportunity for Lisa and her husband, Jim, to reach their long-standing goal of relocating to the mountains of Colorado, where they have been living since mid-2020. Earlier this year, Lisa officially retired from Truepoint but continues her relationship as a good friend of the firm and now a client! Recently, Lisa shared some reflections on her retirement journey and how Truepoint played a key role.
This testimonial was provided by a current client of Truepoint, Inc. This client was not compensated for this testimonial. A material conflict of interest exists since this client is a former employee of Truepoint, Inc.
In a nutshell, retirement is awesome! Although it can be a challenging time for some, retirement has brought a new adventure to me every day. We moved to Craig, Colorado, full-time in 2020. I had forgotten how much I love hiking in the mountains and listening to nature until I moved here. I can go out every day and hike or ski, and I just love it more and more. The constant joy and peace are truly amazing. Had I known what this move would do for me and my husband, Jim, we would have done it years ago!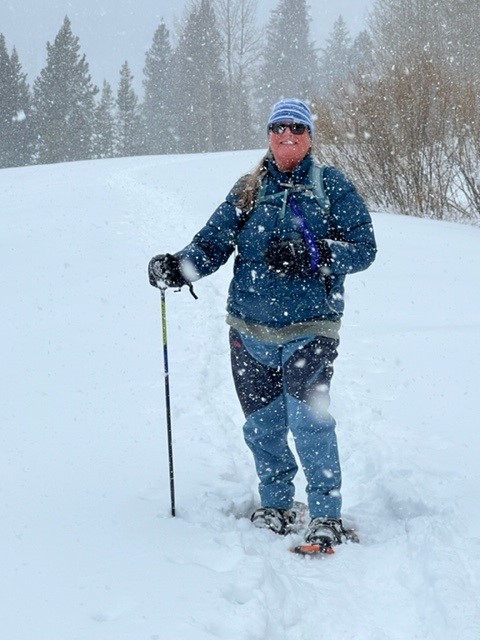 I truly believe that my retirement goals, achievement of success toward them, happiness, and peace of mind are a direct result of Truepoint. Looking back, I can see how my life has been made up of a series of key choices, and my happiness today is a result of those choices. I am so grateful that Truepoint founder, Michael Chasnoff, made the choice to hire and invest in me, even though he knew I was a free spirit who had a nearly insatiable wanderlust. But he took a chance on me—without a resume and with no relevant experience. Michael's faith in me brought me one of the best opportunities of my life—crafting a career at Truepoint. I accepted the job and chose to stay there for 22 years.
That choice is directly responsible for where Jim and I are now.
As an employer, Truepoint was outstanding. It gave me a stable income and enabled me to save for retirement. Over the years, as my career and the company evolved, my situation only got better. Truepoint increasingly recognized the importance of a sustainable work/life balance, and our company culture consistently focused on supporting our team members' whole lives. Because of my career, I was able to live the life I aspired to every day while also planning and saving for our future goals. I feel truly blessed to have had my job with the firm for as long as I did.
In addition to my rewarding career path at Truepoint, I also benefited from the depth of investment and planning expertise among my colleagues. I never had to worry about my retirement funds because Truepoint managed our investments. When the time for our retirement grew close, Jim and I were terrified about our decisions. Were we making the right ones? Was it a mistake to do this so early? Should we wait to move out west? Was it even possible financially? These questions worried us, but the one constant peace of mind was that Truepoint was in charge of our money. Blake Price served as our advisor and developed a plan just for us, and he assured us as the time drew nearer that we could do it. Our trust in Truepoint gave us the strength to decide to retire early and make our big move to Colorado.
Truepoint even allowed me to continue to work remotely, which took a lot of fear and uncertainty out of our decision. It enabled us to move where and when we wanted so that we could then take a deeper look at our retirement timeline. When it came time to fully retire, I actually felt a bit guilty. Working from Colorado was going so well that I wondered, "Why cut off the income stream?"
But the mountains, the snow, the hiking, and the skiing were all at my fingertips for the first time ever. I was no longer on a short vacation from Cincinnati. I was permanently living in the place of my dreams and could enjoy the beautiful surroundings every day. It was simply too great of a pull.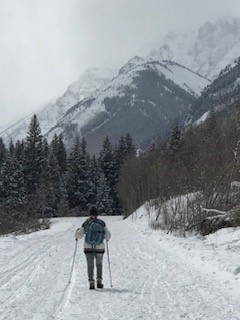 I came to the realization that Truepoint had taken care of us on so many levels. We had made it, and I could let go of the pressure to work and earn additional income. Truepoint had provided us with everything we needed to move forward in the next chapter of our life, as well as the peace of mind to do so. We continue to have the utmost faith in the firm.
As an employer, Truepoint helped us achieve our life-long goals. Today, I am fully on the other side of the firm—as a client. Jim and I are at peace, comfortable, and happy. We know that Truepoint is managing our portfolio, that they understand our goals and needs, and that they are working behind the scenes to keep us where we want to be. I fully believe we would not be living this fabulous life here were it not for Truepoint. We are truly living life to the fullest. Our daily mantra is: "We are not on vacation. This is our life. We don't need to take a vacation. And that's the point, life should be something you don't have to take a vacation from." Truepoint got us here.