Predicting the Fed
The Federal Reserve concluded a two-day meeting on January 29, announcing no changes to their benchmark rate and releasing their updated "dot plot." The dot plot illustrates their expectation of the fed funds rate at various times in the future, giving investors some indication of what future monetary policy might be. An upward trajectory signifies a "tightening" cycle of rising rates, while a downward slope indicates an "easing" cycle of declining rates. In the chart below, the red line represents the Fed's expectations as of September 2018. At that time, they were projecting the fed funds rate to be 3.13% by the end of 2019. Fast-forward to December 2018 (orange line), and their expectation had fallen to 2.88%. By March (green line), the prediction was down to 2.38%. In just six months, the Fed's outlook for their own interest rate had fallen 24%.

The Fed is getting plenty of heat these days but many people have looked foolish when trying to predict interest rates. Jamie Dimon, head of the largest U.S. bank, recently whiffed.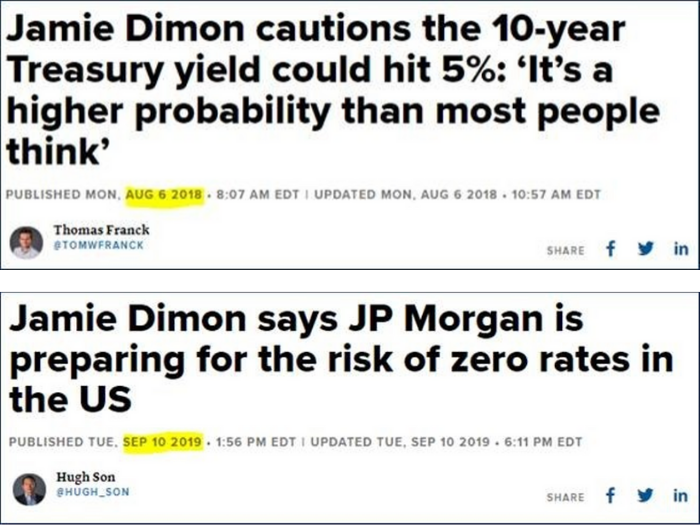 One takeaway: nobody knows what future interest rates will be. Absent luck, correctly forecasting future interest rates would require accurate prediction of:
Countless economic data points
The collective sentiment of millions of market participants
Another takeaway: the headlines surrounding monetary policy greatly overemphasize its relevance to most Americans. Don't forget that the Fed only controls one rate —the rate at which banks lend each other money overnight. That rate has a loose relationship with other interest rates such as government bonds and mortgages, but it has no discernible effect on arguably the most important rates for average Americans: what they're paying on credit card debt and receiving on cash in their savings accounts.
Moving a chunk of cash to a higher-yielding savings account or paying down credit card debt is a much better use of your time than losing sleep over Fed policy.
Disclaimer:
The information, analysis, and opinions expressed herein are for general and educational purposes only. Nothing contained in this commentary is intended to constitute legal, tax, accounting, securities, or investment advice, nor an opinion regarding the appropriateness of any investment, nor a solicitation of any type. All investments carry a certain risk, and there is no assurance that an investment will provide positive performance over any period of time. An investor may experience loss of principal. Investment decisions should always be made based on the investor's specific financial needs and objectives, goals, time horizon, and risk tolerance. The asset classes and/or investment strategies described may not be suitable for all investors and investors should consult with an investment advisor to determine the appropriate investment strategy. All opinions and views constitute our judgments as of the date of writing and are subject to change at any time without notice.