Lending a Hand: Children and Philanthropy
Our clients often speak about their passion for philanthropy and their commitment to giving back to their community. And our estate planning experts frequently create plans that provide sustaining gifts to our clients' favorite charitable organizations.
But today, many people want to do more than donate money. They want to contribute their time, their expertise, and their labor to a cause.
Such efforts can create an even greater legacy than you might realize. Research from Indiana University shows that the children and grandchildren of those who give to charity are more likely to give to charity themselves.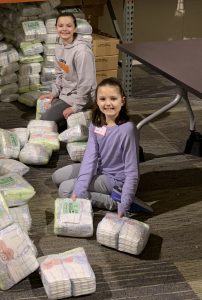 In addition to giving money, how can you encourage your children and grandchildren to give their time? How can you instill in them the importance of rolling up their sleeves and pitching in to help others?
These are questions I care deeply about, due to my own volunteer experiences and my work with clients as a wealth advisor. In 2008, I joined the Junior League of Cincinnati, and since then, I've become committed to programs that focus on women and children—including Junior League projects such as Sweet Cheeks Diaper Bank or GrinUp!, as well as Dress for Success, Bake Me Home, and Girls on the Run. During that time, I also became the mother of two girls. Even early on, I wanted to show them the value of giving back, and as they've gotten older—they're now 9 and 11—we've been able to volunteer more and more alongside each other.
Over the years, I've learned the following tips to encourage young people to lend a charitable hand:
Start with your own efforts
The first step to get kids interested in volunteering is to become involved yourself. This helps you learn about an organization and the kind of help it needs. Most volunteer opportunities aren't listed on a website. You need to be involved so that you can better identify the right opportunities for your family.
By volunteering, you also lead by example and show that such activities are important for the whole family. This sets the stage for kids to emulate this behavior down the road. After all, it's one thing to tell a young person that they should care about others; it's another for you to devote your own time and energy to doing so.
Focus on providing direct help
Kids tend to value volunteer activities where they can see the impact they are making. According to a survey by DoSomething.org, children are more interested in helping people or animals in need than they are in volunteering for causes that do not produce direct results. This means that volunteering in person can be more meaningful than simply giving donations. Money is especially abstract for younger kids, so it can be hard for them to understand the impact those dollars are making.
Look for charities that can clearly demonstrate how their volunteer activities make a difference. Some have volunteer coordinators who will provide an introduction to the assigned work, explaining what you'll be doing and why. The more children understand why they're doing a particular task, the more enjoyable they'll likely find it.
Offer ways to socialize
Kids like to work with other kids their age. This can help them feel like they belong, rather than like they are just tagging along with their parents. Young people see volunteering as a chance to interact with their friends, so consider ways to get a larger group engaged, such as with Girl Scouts, a soccer team, or a youth religious chapter. For teens, the social factor is even more important. They tend to view volunteering like they view other activities—as a chance to blend in, make friends, and have a good time.
Make it an opportunity for a little family fun, too
Let's face it: volunteer work isn't always glamorous or entertaining. To help give kids something to look forward to, plan for a fun activity afterward. Head to the playground, grab an ice cream cone, go to a favorite restaurant. This way, you'll be making a difference and also getting in some family bonding time, too. With all the temptations of technology today—plus kids' constant overscheduling—the more meaningful family experiences we can give our children, the better. After a recent weekend volunteer activity with my own girls, we spent some time wandering around Findlay Market in downtown Cincinnati, followed by lunch at the Eagle in Over-the-Rhine.
Target different activities for different age groups
It's important to consider what kinds of activities are appropriate for children of different ages. It can be hard for very young children to volunteer, but you can still get them involved. For example, you can print out a shopping list of items that your local food bank needs. Your young child can help you at the grocery store, and then you can drop the items off together.
Around age 8, kids can provide more hands-on help. For instance, at charities that collect clothes, they can help sort donated items. At this age, though, activities should be kept relatively short—about two hours or less—to keep the work enjoyable and manageable.
Teenagers can do more intensive work—such as serving on a clean-up crew for Habitat for Humanity. Their activities can also be a bit longer, up to about four hours, especially if a group of peers are there. But today's teenagers are often pressed for time, so look for activities that don't require a commitment too far in advance, as well as those that don't have rigid start and stop times. This gives teens more scheduling flexibility.
Following these tips should help make volunteering more fun and more fulfilling for your children, paving the way for a lifelong commitment to helping others.
Focus on both money and meaning

Talking about our clients' values is a key part of our work at Truepoint. Our discussions don't stop with an account statement; instead, we focus on the connection between money and meaning. We view wealth as an instrument that enables our clients to achieve their larger goals. When it comes to philanthropy, we encourage you not only to think about donating money, but also about the meaningful activities you can share with the children in your life.