The Day After the 2016 Presidential Election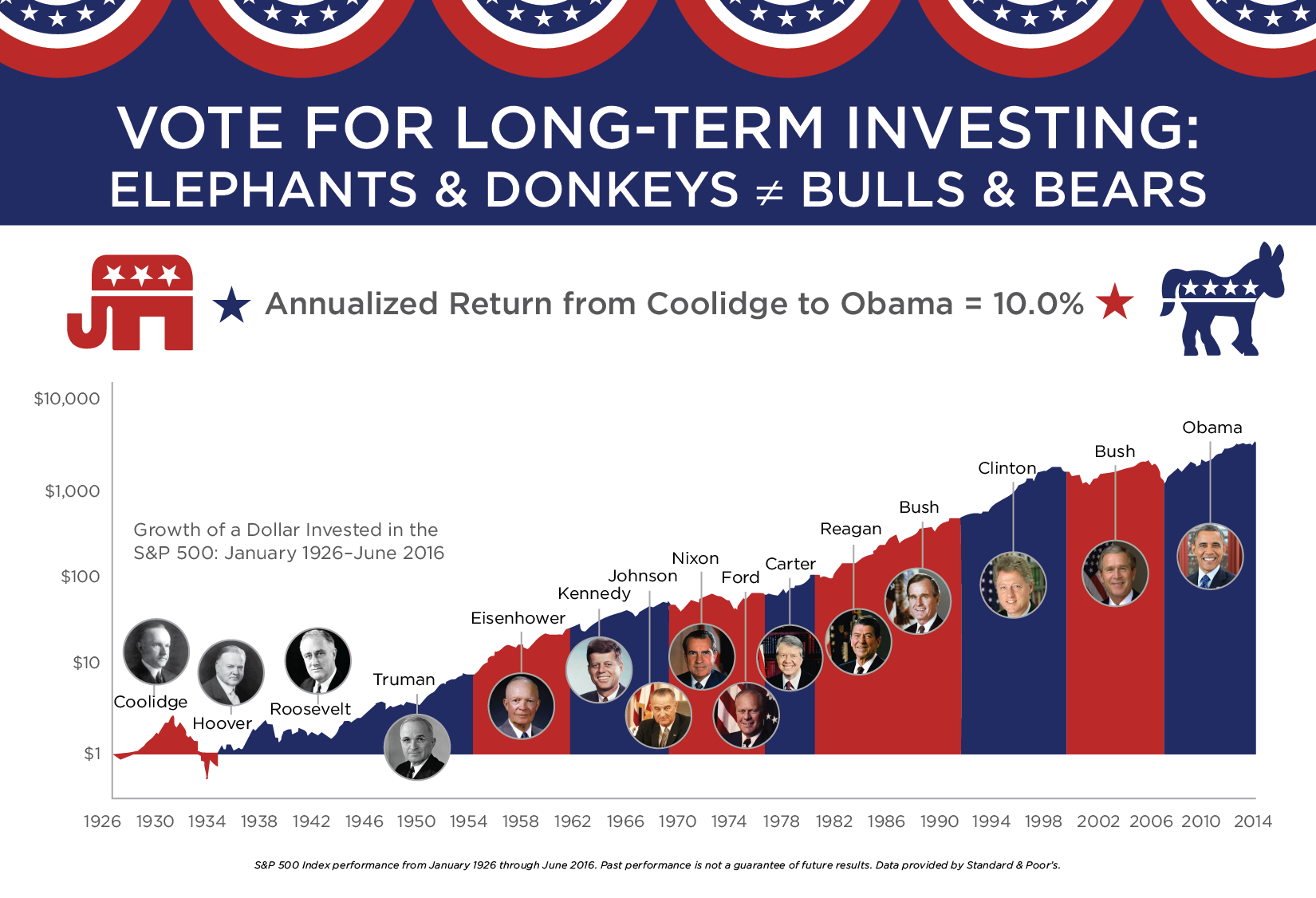 Last night's election concluded one of the most turbulent political seasons in our nation's history. Across the country today, the feelings of American voters range from delighted to despondent to simply bewildered. No doubt many of us feel a sense of relief that the campaign is finally over, regardless of the outcome.
The Trump victory clearly caught political forecasters, and the financial markets, by surprise. As we know from experience, markets become jittery in the face of uncertainty and sudden changes in expectations. And, in particular, markets often react negatively to election results: In the 22 presidential elections since 1928, 15 were greeted with negative market returns the day following the election, including declines of 5.3% in 2008 and 2.4% in 2012.
We are writing today to remind you that, however the markets may react in the coming days, any impact on your portfolio is likely to be temporary. This is critical to keep in mind, as the uncertainty surrounding Trump's impact on key issues such as trade, immigration and foreign policy will undoubtedly produce volatile markets and a wide range of "expert" prognostications. Despite the political and financial noise that may feel overwhelming at times, the vast body of evidence shows us that longer-term market performance is very likely to reward patient investors.
To better illustrate this, let us take a look at history. The graphic shown above depicts the growth of one dollar invested in the S&P 500 Index over nine decades and 15 presidencies.
While predictions about presidential elections often focus on which party or candidate will be "better for the market," the key takeaway is that the generally upward trajectory of the stock market has persisted regardless of who occupied the Oval Office. This data makes clear that limited presidential influence on financial markets is one thing we can all agree on.
Further, as Chris Meyer of Truepoint Institutional reminded us during the height of the campaigns, it is advisable to keep a few principles in mind:
Any market turbulence following this election is likely to be a small blip over the long-term.
The new President's economic policies are unlikely to be fully enacted; and if they are, we do not know how they will influence markets.
The efficiency of the markets means expectations are already priced into the markets.
So what should you do now? In a word, nothing. Equity markets can help investors grow their assets, but investing is a long-term endeavor. Trying to make investment decisions based on the outcome of presidential elections is a losing game that can lead to costly mistakes. Investors should rely on patience and portfolio structure, rather than trying to outguess the market, in pursuing investment returns.
And instead of allowing short-term market disruption to shake your confidence, view it as a welcome opportunity to capitalize on depressed prices through rebalancing. This rule applies to any event that seems to cause some level of panic among less patient investors.
While we look forward to no longer talking about the 2016 presidential campaigns, we are always ready to talk about your financial goals and strategies, and how politics or other events may affect them. In most cases, the worries about their effects greatly exceed the actual impacts, but we know it's difficult to put those concerns aside during intense times. Just know that investors will continue to invest in companies, and the global economy will continue to march forward. History shows that election results may create short-term disruptions but don't derail long-term investment returns.