Full-Service Family Office – with a Personal Touch
Families with multi-generational wealth have unique needs. From setting up and managing trusts, to planned giving and philanthropy, to strategies for minimizing tax liabilities, wealthy families can benefit from a wide range of services – especially if they are delivered by a truly independent advisor with the knowledge and experience to see the "big picture."
The top priorities are often to ensure that wealth is preserved across generations and to avoid the dreaded "shirtsleeves to shirtsleeves in three generations" phenomenon. Many wealthy families turn to investment professionals who make decisions about financial and investment matters exclusively — whose only purpose is to create more wealth.
However, in our experience, the most important issues and principles of wealth preservation are qualitative, not quantitative. It's not just maximizing returns or trying to beat the market. The families that successfully preserve their wealth and legacies across generations are notable for their commitment to communicating openly and sharing the values of the original wealth creators.
Truepoint offers tailored solutions for wealthy families with investable assets of $20 million or more. In addition to benefiting from our true wealth management services (including estate planning, investment management and strategic tax planning and preparation), Truepoint's family office also offers:
Generational planning and family governance
Trust design and administration
External account aggregation
Bill paying, expense management and reporting
Our family office team can also facilitate and support family meetings, communication plans and philanthropic strategies.
The Advantages of Integration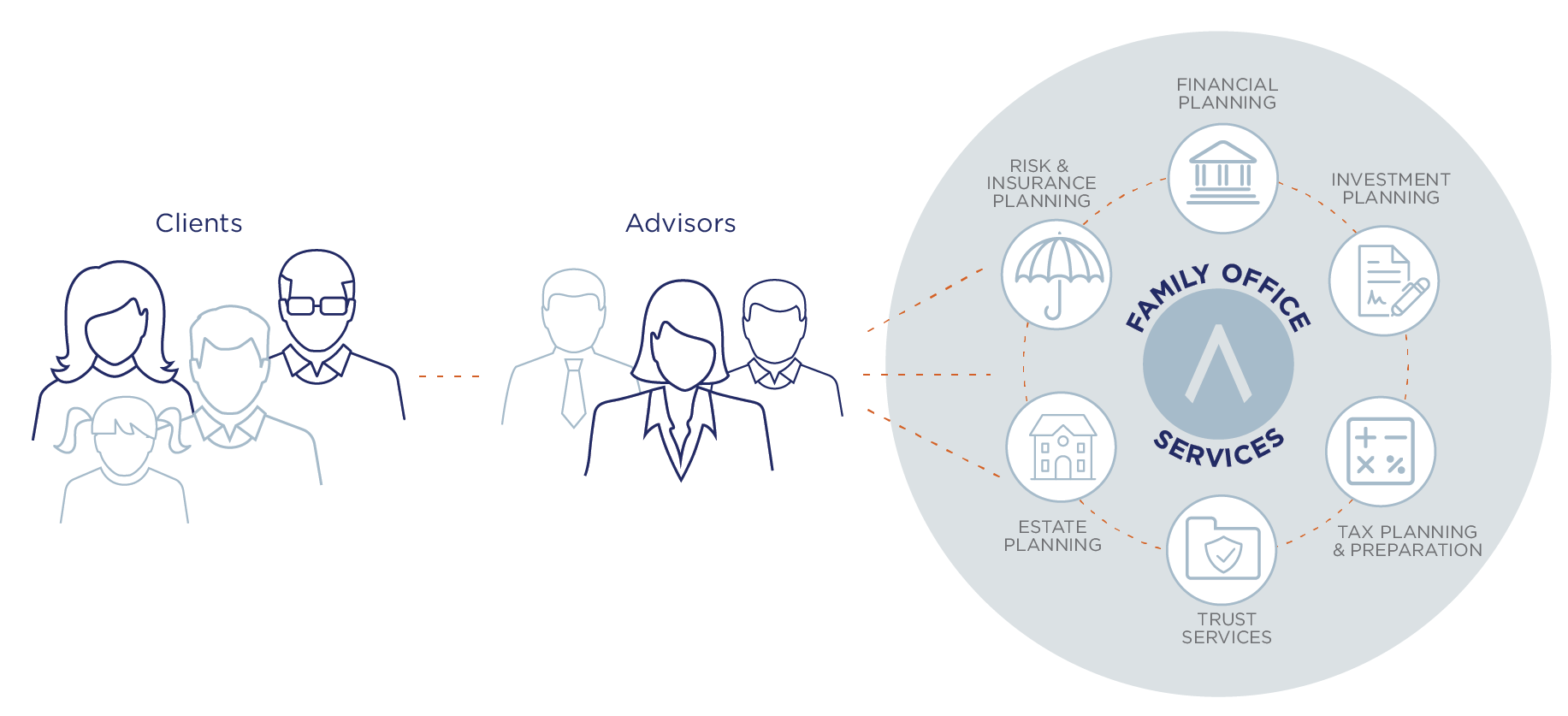 Truepoint's holistic and integrated approach to wealth management is particularly well suited to families with multi-generational wealth. Beyond comprehensive plans, integration provides direct access to a wide range of expertise – all under one roof. That means you no longer have to coordinate multiple advisors. It's a different approach than other wealth management firms – one designed to deliver a better client experience.
Our advisors and specialists are always ready to answer questions, talk through concerns and help you lead the life and leave the legacy you want. The "Truepoint Way" means always striving to deliver extraordinarily high client satisfaction and increased efficiency in planning and execution.
Contact a Truepoint advisor today to learn about our family office and family wealth management services.