Staying the Course in 2013
In looking back at 2012, there are many words that could describe the year. "Boring," however, is not one of them. A very spirited political campaign, the European financial crisis, the fiscal cliff and a slew of other geopolitical events that dominated the headlines kept everyone on their toes for what would come next.
As one headline fell to the wayside and another took its place, you could usually look to the financial markets as a barometer for measuring the impact of the day's events. Fear is a powerful motivator, particularly when it comes to protecting the fruits of a lifetime of labor. So, naturally, when human emotions take over, the instinct is to go into "fight or flight" mode. Frequently, when it is a matter of protecting one's financial capital, investors opt for flight. This decision is made all the easier when the financial experts and media commentators add fuel to the fire by encouraging investors to move to the sidelines during periods of turbulence and wait for order to return.
So, as we evaluate 2012 market performance, we can confirm once again that impulsive decisions based on external factors failed to add value. In spite of a great deal of concern about the impact of geopolitical events, the situation in Europe, while still tenuous, is showing signs of improvement. Although we had a few toes dangling over the fiscal cliff, so to speak, we managed to keep our footing on solid ground. And, to the surprise of many, the 2012 U.S. stock market saw double-digit growth over 2011. In fact, since 1980, the stock market has closed up 25 out of 33 years, or 76% of this time period. The following chart illustrates this history: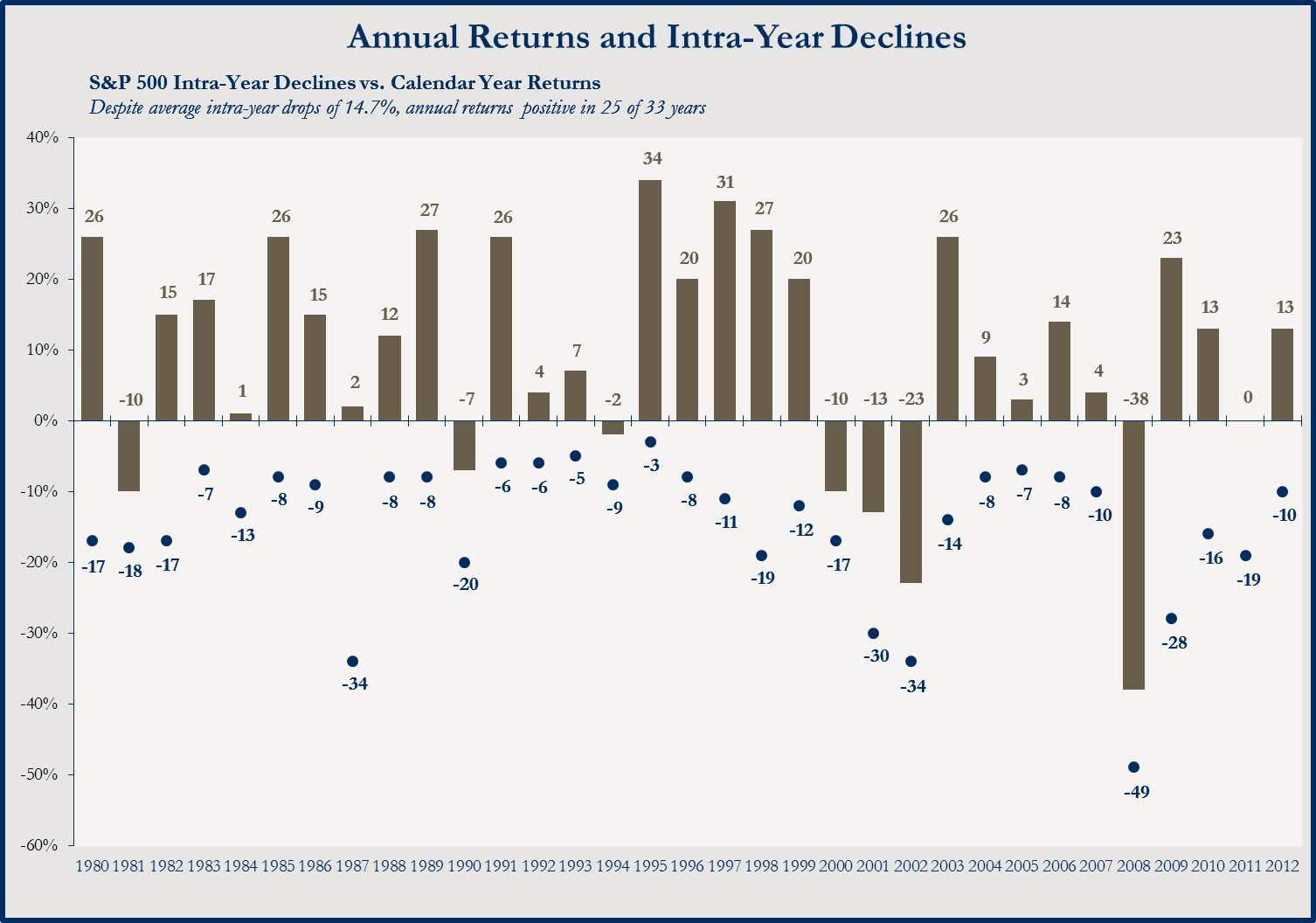 As demonstrated in the chart, it is inevitable that, during the course of a year, there will be downturns. Until the technology is developed making crystal balls a reality, there is no fool-proof way to predict or avoid these downturns. This is why Truepoint's investment philosophy is grounded in adhering to a long-term strategy of disciplined, real-time portfolio rebalancing to capture the opportunities of a fluctuating market. This discourages the urge to give in to the emotions of the moment that may prompt investors to take defensive measures. Market volatility is an opportunity. It provides investors the chance to add to their portfolios at reduced prices, enjoying the benefits when the market rebounds. And, by resisting the fear to sell stocks that have taken a dip, investors aren't deprived of the gains when the market recovers. While this discipline is hard for investors to execute, it is necessary to counter the human tendency to give in to fear. But that is why we are here: to keep you on the path we have chartered together and counsel you during stressful times when human emotions often get the best of us.
On behalf of the Truepoint team, allow me to extend our thanks for giving us the opportunity to serve you. We appreciate the relationships we've built with our clients and look forward to the same relationships with those who are new to the Truepoint family. We will be here as 2013 unfolds to navigate whatever it brings, right along with you.
If you are not currently a client but would like to learn more about Truepoint's services, please contact Lisa Reynolds. If you are a client and would like to learn more about this Viewpoint topic, please contact your lead advisor.