Costs Matter When Purchasing Mutual Funds
One of the first questions investors should address before purchasing a mutual fund or exchange-traded fund (ETF) is "What are the costs?" In a study authored by Morningstar's director of mutual fund research, titled "How Expense Ratios and Star Ratings Predict Success," it was concluded that expense ratios are better predictors of returns than Morningstar's Star Ratings. The following quote sums up the author's conclusions on expense ratios: "If there's anything in the whole world of mutual funds that you can take to the bank, it's that expense ratios help you make a better decision. They are still the most dependable predictor of performance."
The costs of owning either type of fund are summed up by the expense ratio, which represents the percentage of the fund's assets that go purely toward the expense of running the fund. (This is distinct from the costs of buying a fund, which could include brokerage fees and/or even worse, the dreaded sales load). The expense ratio covers the investment advisory fee, administrative and other costs, and 12b-1 distribution fees:
The investment advisory fee is the fee necessary to pay the manager(s) of the mutual fund.
Administrative costs include record keeping, postage, customer service, etc. The most frugal funds are excellent at keeping these costs low, while others see this as an opportunity for pillaging assets.
Lastly there is the 12b-1 distribution fee. While this fee does not apply to all funds, when present it ranges from 0.25% all the way up to 1.0% of the fund's assets. This expense goes toward the costs of advertising and promoting the fund. In other words, if your mutual fund charges a 12b-1 fee (note in Table 1 that our recommendations do not), then you're paying every year for the fund to run commercials and try to sell itself.
Table 1: Breakdown of Expense Ratio in Truepoint Recommended Holdings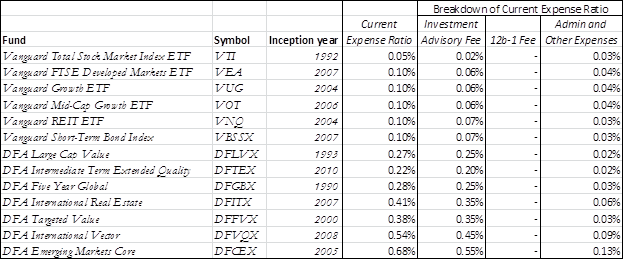 Currently, the typical expense ratio for an actively managed mutual fund is about 1.5%, a hefty price tag considering the poor track record of actively managed mutual funds. Meanwhile, the trend in owning index and passively managed mutual funds is being pushed lower as funds continue to fiercely compete for assets. Note that many of Truepoint's current recommendations have benefited from this trend, with Vanguard once again lowering the costs on many of its funds in the past few months. Unlike many other fund companies, Vanguard doesn't generate profits for private or public owners. Instead, their unique corporate structure (the company is owned by the mutual funds which are owned by the shareholders of the mutual funds), along with their relentless focus on keeping operating costs low, has resulted in a remarkable track record of passing lower costs down to their investors.
However, just because a fund labels itself as an index or passively managed fund does not by itself guarantee a low or fair cost. Some mutual funds, knowing investors are now associating index funds with lower costs, have launched index funds with expense ratios of more than 1% with the hope that investors don't notice.
While Vanguard provides some of the lowest cost index funds in the investment universe, Dimensional Fund Advisors has added value over benchmark returns by structuring their funds along various dimensions of expected returns. For equity funds, expected returns are increased by giving greater weight to small companies with low relative price and high direct profitability. Although the rigor associated with constructing Dimensional's funds leads to a higher cost than traditional index funds, their process is validated by a long track record of implementation. Furthermore, both Dimensional Fund Advisors and Vanguard distribute 100% of their proceeds from security lending revenue back to their shareholders which, as mentioned in a prior Truepoint Investor titled "Understanding Security Lending," can significantly offset the funds' expenses.
Costs matter. Managing costs allows investors to capture more of the capital market return that is there for the taking. While the decreases in expense ratio have been modest from one year to the next, we are excited about the consistency with which they have fallen over time.