7th Annual Ladies Luncheon
May 10, 2017
11:30 a.m. – 1:30 p.m.
Cooper Creek Event Center at the Blue Ash Golf Course

Change is constant and inevitable (whether we like it or not), so why not embrace it gracefully? The first step is to understand the value of transition and learn to interpret it wisely. Elle Zimmerman will walk through the two main types of transitions – those that happen to us, such as a child leaving for college or losing a spouse, and those transitions that we initiate such as starting a new business.
About Elle Zimmerman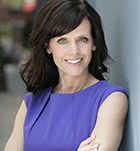 Elle Zimmerman started her career as a performing artist having worked as an actress and singer on the professional stage for more than 20 years. Currently, Elle consults with leaders of Fortune 500 companies such as McDonald's, Crocs, and Bacardi USA customizing personal development training and culture management programs delivered through online courses and corporate communication campaigns. As a sought after leadership expert, Elle utilizes her experience as an actress, entrepreneur, and producer to train and empower women to "stand center stage" in their personal and professional lives.
Registration is now closed. To inquire about open seats, please contact Lynda Michael at 513.792.6648.
Please note: our new location is the Cooper Creek Event Center, located at the Blue Ash Golf Course on Cooper Road!