P&G recently announced the STAR and LTIP programs for 2018. These awards can provide significant opportunities to build future wealth and achieve financial goals. Because both programs come with a choice between stock options and an alternative (cash or RSUs), there are several considerations to be made when determining the most appropriate choice.
We created the STAR Award and LTIP analyses to assist P&G employees in the decision-making process (click images to view):
P&G Long-Term Incentive Plan (LTIP): Options or RSUs?

P&G STAR Award: Options or Cash?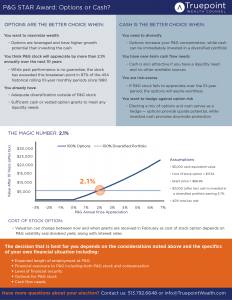 Questions?
Contact a Truepoint advisor today to learn more about how we can help you gain clarity and confidence about your near-term choices and long-term goals.